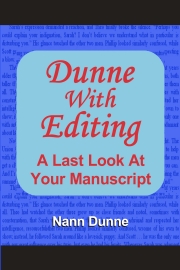 Available in the
Following Formats
Print Version

PDF
For most computers
ePUB
For Sony, Nook, Adobe Digital Edition, and other readers

Mobipocket
For Kindle and Mobi

Kindle Version can also be ordered at
Amazon.com
Click Here to go to the
Order Page
---
Dunne With Editing
A Last Look At Your Manuscript
Write a Book That Includes the
Finer Points of Editing
You can find many books on writing a novel and others on how to edit it. A few are worthwhile, and you might learn something from each one—those you can stay with long enough to read the whole book. But many tend to talk about the major areas of writing fiction: character growth, story development, scene structuring, point of view, and pace. Yes, those are important to every story. Without them, the story falls flat.
But one part of writing a book hasn't been adequately covered—the finer points. Written by an editor with more than twenty-five years of editing experience, Dunne With Editing addresses those points one by one and breaks them down to the basics. Twenty-two areas are covered in detail, including these:
Adverbs
Adjectives
Burly Detective Syndrome
"ing" Disease
Passive Voice
Wordiness
And many more
You may think you know all about these areas, but editors, over and over, see a lack of the professional editing skills explained in this book.

Purposely abbreviated, Dunne With Editing won't tire your brain; you won't give up halfway through. It gives short explanations and adds enough examples to make each point clear without overloading the reader.


A handy checklist is included,
as well as useful tips and resources

Learn to polish your prose above and beyond what other writers are doing—or perhaps don't know how to do. Complete the checklist that's included, and editors and publishers will notice the difference between your book and the ones by authors who haven't sharpened their writing skills as well as you have.



Submit a Highly Polished Manuscript

Make sure you submit a highly polished manuscript to a publisher. Dunne With Editing can help you do that. Editors and authors alike will find this to be one of the most useful books in their writing arsenals.

You don't have to wait until your story is finished. The tips in this book can be applied as soon as you get it, regardless of where you are in your current writing. Start polishing!

****************************************

Author and editor Nann Dunne's Dunne with Editing is an invaluable resource, whether an author is just starting out or has been writing for years. Using easy-to-understand and straightforward language, Dunne offers tips on every aspect of editing a manuscript. It is an important resource to keep within reach for the final read-through of your submission. I highly recommend Dunne with Editing for all authors who want to improve their writing.

~ Chris Paynter, author and editor

******************

As a book publisher, one of the biggest challenges I face is culling through submissions to find manuscripts suitable for publication. In a perfect world, every writer (by which I mean anyone hoping to become a published author) would own a copy of Dunne With Editing and would carefully follow the guidelines it provides before sending in a submission. Nann Dunne's concise, precise, no-nonsense reference tool is a goldmine for all who wish to improve their writing skills. I heartily recommend it.

~ Emily Reed, Blue Feather Books, Ltd.

******************

My job as an editor would be much simpler if authors read and followed the guidelines in Dunne With Editing. It touches on everything from basic English usage to helpful hints for how to formulate a captivating plot to creative ways to come up with memorable titles to how to avoid repetitive use of words and phrases. Wise writers will keep a copy handy. Even wiser ones will do their best to master the tips and tools it contains. I wish I'd had this reference tool at my disposal when I began doing creative writing. Dunne has assembled a treasure trove of must-have information.

~ Jane Vollbrecht, author and editor

Available in paperback, PDF, ePub, Mobi, and Kindle.

Click Here to go to the Order Page

Right click and "Save as" here to download a free PDF excerpt of Dunne With Editing.